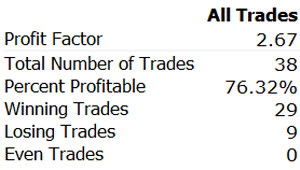 The stock market has been nothing short of incredible since the beginning of the year.  My Stock Trader Formula students have been making a killing in this bull market.  Currently, we're sitting at about a 70% – 75% win ratio, with a +2 profit factor.  In other words, we're winning about 3 out of 4 trades, and making about $2.00 to $2.50 for every $1 we risk.
Here's a recent tweet from one of our new students who's doing really well with the Trader Formula strategy:
And here's a screenshot from our main stock trading broker that shows our current win ratio profit factor for the month of February:
Also, I thought this was pretty cool.  Someone who's been following me on Twitter and watching my Bitcoin trading videos made over $10,000 based on my Bitcoin Trading Method.
Focus On High Probability & High Profit Potential Stocks
When it comes to trading stocks, there's literally thousands of companies you could trade every single day.  How do you know which stocks are worthy of your time and investment capital?
It's all about having a solid trading strategy that helps you know which stocks have the highest probability of making big % moves.
Here's a trade review video example from today's trade.  We usually send these out to our Trader Formula students, but wanted to show you an example of a great trade and how we teach our students how to be precise with their execution:
In this video series, I give away the criteria that I like to trade.  Nikki finds stocks for our students and us to trade the next day by running our custom scans.  Usually we come up with a watchlist of 10-25 stocks that could give us big trades the next day.  On average, we take about 3-7 stock trades a day.
Learn To Be Precise With Entries, Trade Management, and Position Sizing
Most traders lose money because they chase "hot stock tips" or try to mimic gurus' trades.  But the ONLY way to become consistently profitable for the long-run is to become independent.  It's all about learning your strategy inside and out, then taking the time to develop the skill of becoming a trader.
In this video I talk about the 4 criteria you need to become successful:
Free Day Trading Video Course
A step-by-step guide to day trading online
Learn how to day trade in 60-90 minutes a day
Why old-school trading strategies are dead
http://chrisdunn.com/wp-content/uploads/2014/02/2-26-2014-5-59-38-PM1.jpg
170
300
colinm
http://chrisdunn.com/wp-content/uploads/2016/08/Chris-Dunn-Logo-1-300x37.png
colinm
2014-02-26 20:33:16
2014-02-26 20:33:16
Day Trading Stocks For Income - How To Get A 70%+ Win Ratio